So here's the thing…it has been a looooong, cold winter but seriously, aren't all winters long and cold? I have to admit, though, that this one seemed worse. I think it was because December and January were nothing out of the ordinary and were quite manageable. Then, February hit! With a vengence!
The picture below was taken January 23rd and as you can see, it was a spectacular day in the south Okanagan. I had to hustle to take this picture as the snow was so beautiful but was melting right before my eyes. The next week, I would not have wanted to be outdoors without at least three layers of warmth and at least two hats on and that carried on for the entire month. For this coastal girl, it was torture…rain, yes…snow, wind and cold? No thank you.
But as you all know, the work has to get done and the weather doesn't care if you are too cold. Happily, we got the vineyard pruned and finished tying down several weeks ago. We have mulched and have spread a layer of compost over the entire vineyard. We are now waiting patiently for bud break which should happen in the next two weeks. This is exciting because it signals the start of the next vintage. What will it bring? Something epic? Hope so. Something just ordinary? Hope not. Will we have smoke coverage most of August like we did last year? Definitely hope not. Only time will tell and we will deal with it all as best we can.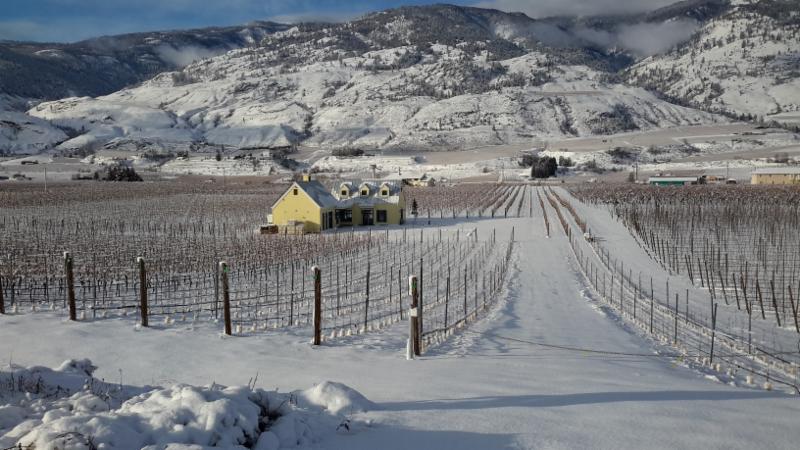 But the most exciting news is that we are opening next week! On Good Friday, April 19th we open for Season Two in our tasting room. I can barely contain myself. We have made a few changes with our staff this year. We have hired Noah, a young man we met last year during his time working at a neighbouring winery. He will be helping Jamie in the vineyard all summer long and will help us bring our harvest in before he leaves us again to go to his winter job – heliskiing guide! What a life young Noah has. He won't spend much time in the tasting room as he is really quite shy but no doubt we will see him around working between the vines.
Gwen, who worked with me in the tasting room last year, is making a return! I am thrilled as she was terrific with our guests and has become a friend. Looking forward to seeing her more again over the season.
We have also hired Tracy. I met Tracy last year when she was working at another winery. She is very accomplished – great in the tasting room, of course, but she will also help me with social media, planning any events and helping me roll out our wine club. I cannot wait to get going!
A brief bit about the upcoming wine club…we are working very hard to put this together so that it fits seamlessly into our website and point of sale system. We wanted something totally controlled by our wine club members so while we will suggest wines and shipping dates for your wines, all of those decisions will be up to the member – select whatever wines you want and select when you want to receive these wines. Freedom and flexibility are key. And the name of our "wine club"? Here's The Deal…no, really, that's the name which follows our theme of "let's not be so serious".
I will send another (short) newsletter dedicated to detailing the wine club as we get closer to rolling it out.

Below is a group shot of the wines we will have on offer this season. We bottled five wines on March 23rd this year – just over 1,000 cases in just under 7 hours. Whew! Among the five, three were returning wines – Viognier, Syrah and Cabernet Merlot. We also bottled two new wines – Orange Muscat and Cabernet Franc. These two are in very limited supply but we wanted to start somewhere with these varieties and see how they go. The Orange Muscat is hugely aromatic and carries a bit of sweetness which is just how we wanted it. The Cabernet Franc is medium weight with lovely mouthfeel and a long berry, cedar finish. Can't wait to share these and all of our wines with guests this year.
We have not yet bottled our Roussanne – she is being lazy and is all together too comfortable in her cozy tank. She may not be aware but she is coming out of there and into the bottle in early May. Tasting from the tank, though, she is delicious! Perhaps a bit more dry than last year? And just like last year, we are hoping to bottle our Gamay in late June but we have not made a final determination yet. Very, very exciting!
We are making a slight change in the tasting room this year. We are continuing with no charge sampling but we will ask you to choose the four wines that appeal to you most. We hope this will keep things moving more smoothly in the tasting room especially when we are busy. If you are in a group of eight or more, please consider phoning or emailing ahead for an appointment. We will set aside the table and chairs for you and will be able to give you the attention you deserve.
However you arrive at our door, I guarantee we will be thrilled to see you.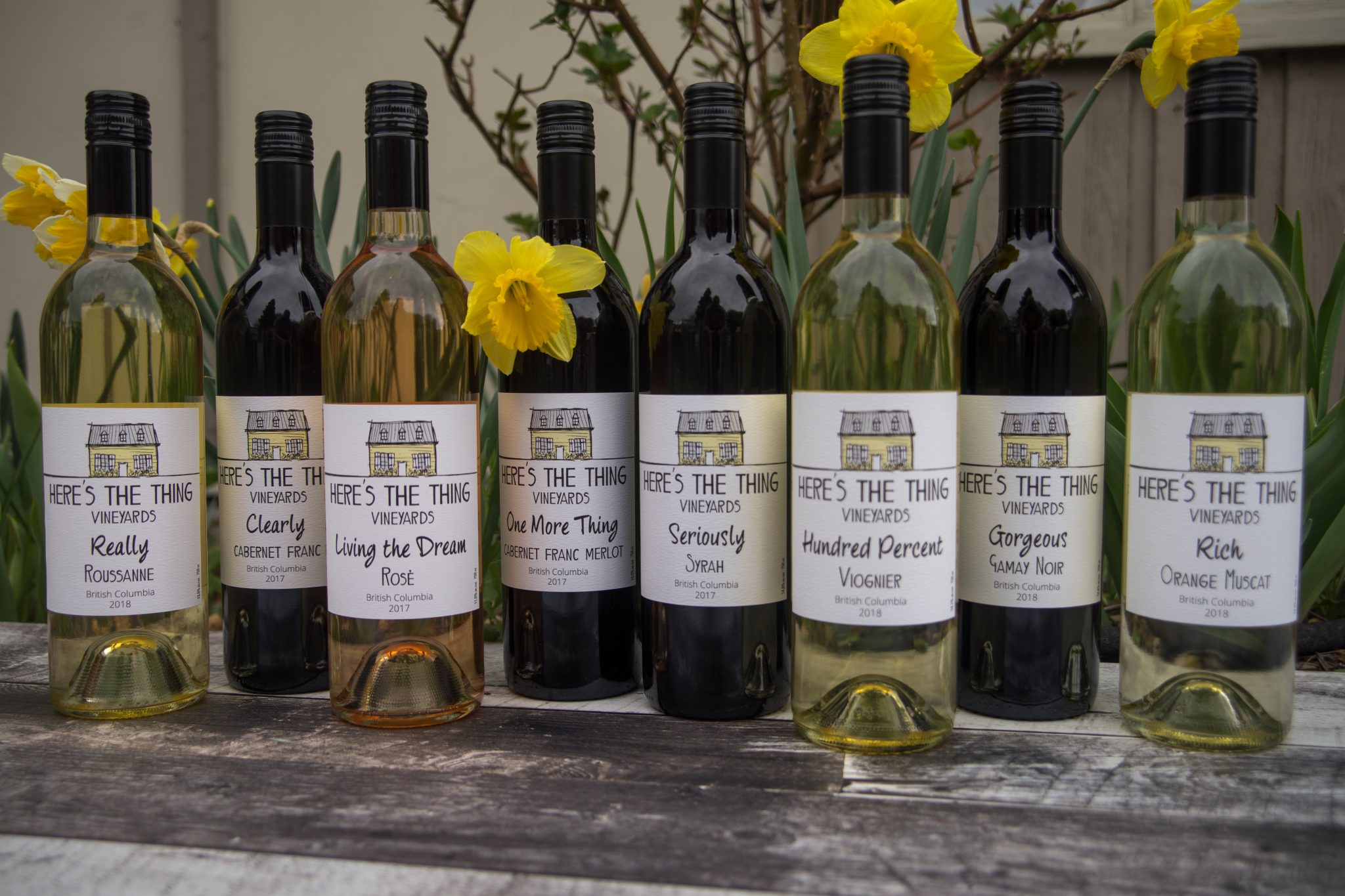 Easter is a happy time in our house and just like birthdays, Thanksgiving and Christmas, Easter means a big family meal, lots of laughs and perhaps a splash or two of wine. We are thrilled that our son and some of his friends will be visiting us in Oliver for the Easter weekend. Our daughter has other plans and she will be missed but she will be visiting us with some friends for the crazy Half Corked Marathon weekend in May.
We wish you all a very Happy Easter weekend – we hope you take the time to celebrate with family and friends. We hope you can relax, enjoy some nice food and delicious BC wine and anticipate with pleasure the rest of the upcoming year.
And on Good Friday at 11 a.m. we will be open for our Second Season. Just like last year, I am excited and nervous in equal measure. Hope to see you all in the tasting room at some point in the next six months.